The best pool table repair in Tucson
If you're looking for professional and guaranteed services, Look no further! We provide a wide variety of pool table services and guaranteed repair in Tucson and surrounding areas. Pool Table Movers SOLO® in Tucson is experienced in all types of pool table repair and billiard table services.
Our company services Arizona City, Coolidge, Oracle, Valencia West, Benson, Rio Rico, Willcox, Sonoita, Sierra Vista, and more in Arizona We also travel to further locations if necessary (this may involve travel fees)
Pool Table Repair Services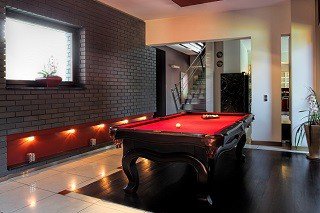 Tucson Pool Table Repair SOLO® Services offers an exclusive guarantee in writing which the American Billiard Installers Association backs. This is a national organization dedicated to raising service standards within the industry. This document is provided in writing, unlike the verbal guarantee you would get from our competitors.
This guarantee that we offer warrants our workmanship and the quality of the pool table felt that we provide for your refelting service. In other words, the pool table felt is covered against tears, rips, or manufacturer defects for 12 months upon completion of the service.
It is important to note that this guarantee ensures your pool table setup with precise level for an entire year. To put it another way, if your table settles down because of its weight and goes out of level, we will return and fix the issue or any issue as specified by our guarantee at no cost to you.
Our attention to customer satisfaction has made us the largest and most dependable billiard table service and repair company. We understand how valuable some pool tables are to our customers, and we service these tables accordingly. Most pool table repair services are performed on-site. We can usually get you taken care of within a week, depending on the complexity of the service or if there are unique situations or materials needed.
Below is a list of the professional pool table repair and pool table services we offer.
Complete pool table move(this involves the proper disassembly, safe transport, and professional pool table setup)
Proper disassembly and transport to storage
Safe transport of a disassembled pool table and proper set up with leveling
Complete moves within a home
Expert pool table refelting in standard or upgraded cloth
Pool table rails service/pool table bumper replacement
And also a replacement of the set of leather pockets or plastic liners.
Why should qualified pool table movers care for your pool table repair or billiard service?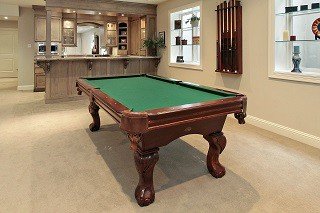 Our pool table movers and our team of professionals give our clients a risk-free service, and we are entirely dedicated to raising the standards in the billiard service industry. We will properly break down your table or move it from storage facilities, your garage, or another room in the house.
If you need carpet laid, do not try to move your pool table! Sometimes this may seem the best thing to do, especially if you only need to move it to the side for a short distance. Again, do not attempt to do this since this could cause permanent damage to the table, or you could end up injured. Let us handle that 800-pound monster for you. Taking the table out of storage? We can take care of the pool table setup service for you.
Even if you aren't an avid billiards player, you still know the benefits of playing on a professionally set up and properly leveled pool table. We're sure you also know what it's like to play pool on a ragged old, unprofessionally installed, and out-of-balance pool table.
So what makes the difference between a bad game and a lovely flat-playing billiard table?
To begin with, the felt should be in good condition and well maintained, not to mention applied correctly by a professional. Keeping the pool table felt clean is easy but has been the subject of much debate among professional technicians.
You should also consider replacing cushion rubber on the pool table rails if they are not as responsive or if you notice irregular bounce. This is a very methodical process and is usually done in two appointments.
When replacing the pool table bumpers, it is ideal for taking care of the pool table refelting service because the cloth covering the old cushions is not usable after it has been removed. We pick up the bumpers on the first appointment and take them to the shop and come back a second time to mount them on the table.
Experienced pool table movers guarantee precise leveling on every installation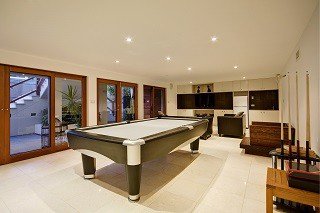 The cheapest and fastest way to get pool table service done correctly on the table is to call a professional like us, rather than spending days trying to learn how to assemble the table or refelt it and hundreds of materials only to have to call us if the job does not do correctly for you. Our experienced pool table movers extensively level the pool table to achieve the best playing experience. A few different things can cause a pool table to be unlevel. They are all pretty simple, and a few of them can be fixed quite easily by an experienced pool table installer.
Remember that our exclusive guarantee validates for a year after the service is complete. Should your table go out of level within those 12 months, we will come back and fix the issue at completely no charge.
Also, should you need to get your pool table refelting service taken care of at the time of assembly, or perhaps if the cloth is worn out and you need to replace the felt? We guarantee the workmanship against leveling issues since we provide external leveling with each refelting service. Additionally, any rips or manufacturer defects are covered under a written guarantee for an entire year upon completion of the service.
In our experience, the main problem with any pool table service is the do it yourself" moving or repair by the homeowner or buyer of the table.  This is the leading cause of problems with installation or even possible destruction or damage of pool tables.
A professional will set up your pool table with proper tools and shimming techniques according to the type of floor it will be installed on.  Each piece of slate will be leveled with an exact level to ensure that your pool table installation will be 100% accurate and flat. Please check out our pool table dimensions guide page if you're still unsure which pool table size is appropriate for your game room.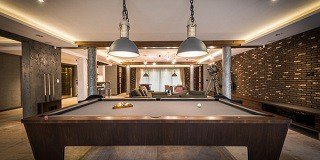 This process of leveling the base, wedging, shimming, and tightening screws on the slates takes the experience to be done correctly.
We urge you never to attempt to take the legs off of a pool table and try to move it.  We would never do this unless we were dealing with a specific type of pool table, which is very rare, so we advise you not to try it. Not only do you risk damage or injury, but there is also the problem with the table not being level when you move it, requiring you to call a pool table professional anyway.
It does not pay to try and save money by moving the pool table in this manner.
Give us a call at Tucson Pool Table Repair, and let us set up your pool table correctly the first time.
We offer Simonis billiard cloth as well as more economical alternatives.
Send us a message with specific details or give us a call!